Bocce ball is a game that originated in Italy and has since become popular worldwide. As a game of strategy and precision, a flat, level surface is critical. Artificial grass is low-maintenance, so it doesn't require the same amount of care and attention as natural grass. This is particularly important for a bocce ball court, which needs to be kept in good condition to ensure fair and fun gameplay. Thanks to its durability and resistance to heavy use and harsh weather, it can withstand heavy traffic and is playable as quickly as 30 minutes after rain, not to mention it will last for many years. Natural grass can become waterlogged and muddy in wet weather, making it unsuitable for playing bocce ball. You can trust that artificial turf will remain dry and playable. This means that bocce ball can be enjoyed all year round, regardless of the weather.
CUSTOMIZED BOCCE BALL COURTS
Bocce courts are most often designed to be 60×12 feet, but the court size can be accommodated to fit the playing space available. As a leader in the artificial turf industry, we've worked hard to offer you the highest-quality synthetic grass solutions for a wide range of applications. One of the many areas we excel is customized bocce ball courts with a custom made turf just for Bocce. We know how to create a perfect surface and base built around playability with the art of the installation provided by SW Greens.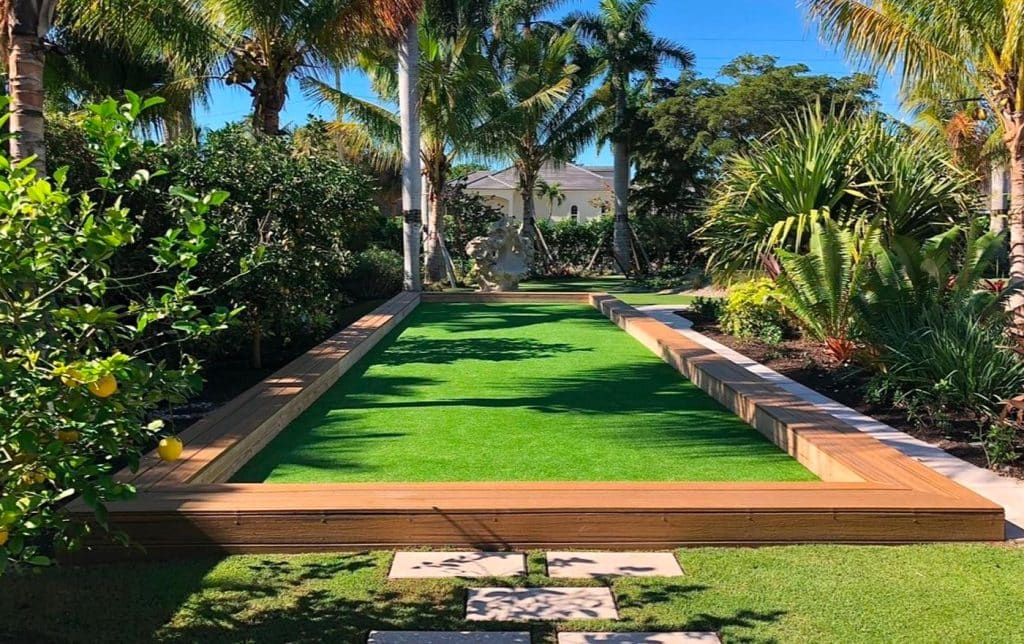 DESIGN IT YOUR WAY
We pride ourselves on beautiful greens. Take advantage of our custom design services for your new bocce ball court. SW Greens can craft a customized design plan to suit your specific needs and preferences. The artificial turf bocce ball court can be designed to fit the available space and feature different patterns to create a unique and personalized look. Need logos or graphics incorporated into the design? We can do that, too. This is an ideal choice for businesses or organizations that want to showcase their brand.
With minimal maintenance requirements, consistent playability, and sustainability, artificial grass for bocce ball offers quite a few advantages over traditional grass. Our commitment to excellence and ability to create personalized solutions makes us an ideal partner for home owners and businesses looking to add a little fun to their lawn space. Get in touch with us now for a free consultation!