Why do you think more and more people are into artificial grass in Fort Lauderdale? There is only one answer: artificial grass is an excellent investment! Learning about the longevity of fake grasses is one of the reasons why consumers are drawn to them. 
Before people buy something, they want to know if the product is durable enough to last for years. They would never spend a single dime on a product they can't fully enjoy and maximize. How do you know if an artificial grass product lasts long? 
How Durable Is Fake Grass?
Three factors will determine how long your fake grass will last – quality, property type, and maintenance. 
Quality
The overall quality and the construction of artificial grass may impact its longevity. One example is the comparison between latex and polyurethane backing. 
Pet owners who have tried both latex and polyurethane agree that polyurethane backing is three to four times more resilient against wear and tear than latex backing. Their fibers are more extended and denser, allowing them to withstand compression. The fibers are made up of a combination of two different shapes. 
The blending of the two different shapes does a pretty good job resisting heavy foot traffic and protecting the grass from fraying. The pigment is deeply embedded into each fiber to give a deeper color that does not fade in the sunlight. The fibers are also carefully stitched into the backing, so they don't loosen. Lastly, good quality artificial grass is now made to be UV resistant. 
Property Type
Another factor that determines the longevity of your artificial grass is usage. As you know, artificial grass is made of synthetic materials. When it gets damaged, it doesn't have the ability to heal itself. 
So, when damage does occur, you can either repair it or replace it. The contributing factors to fake grass deterioration are wear and tear from constant foot traffic, sharp objects that pierce through the surface, heat (from fire, cigarette butts, and barbecue coals), and pet waste. 
Maintenance
Even though artificial grass requires very little upkeep, you still need to take care of it so that it looks attractive. Besides maintaining its beauty, you must also maintain your grass to prolong its lifespan. How do you care for your fake grass? Luckily, it's not that hard. 
Sweeping and raking are essential to remove debris, dirt, and fallen leaves on your turf. Consistently raking and sweeping the area will keep your lawn looking pristine and last longer. 
Yes, you don't need to water fake grass, unlike natural grass, but there are times when you need to hose some parts down to remove odors and stains. You'll have to do this more frequently if you have pets. Spills from liquids with strong odors can be cleaned with soap and water.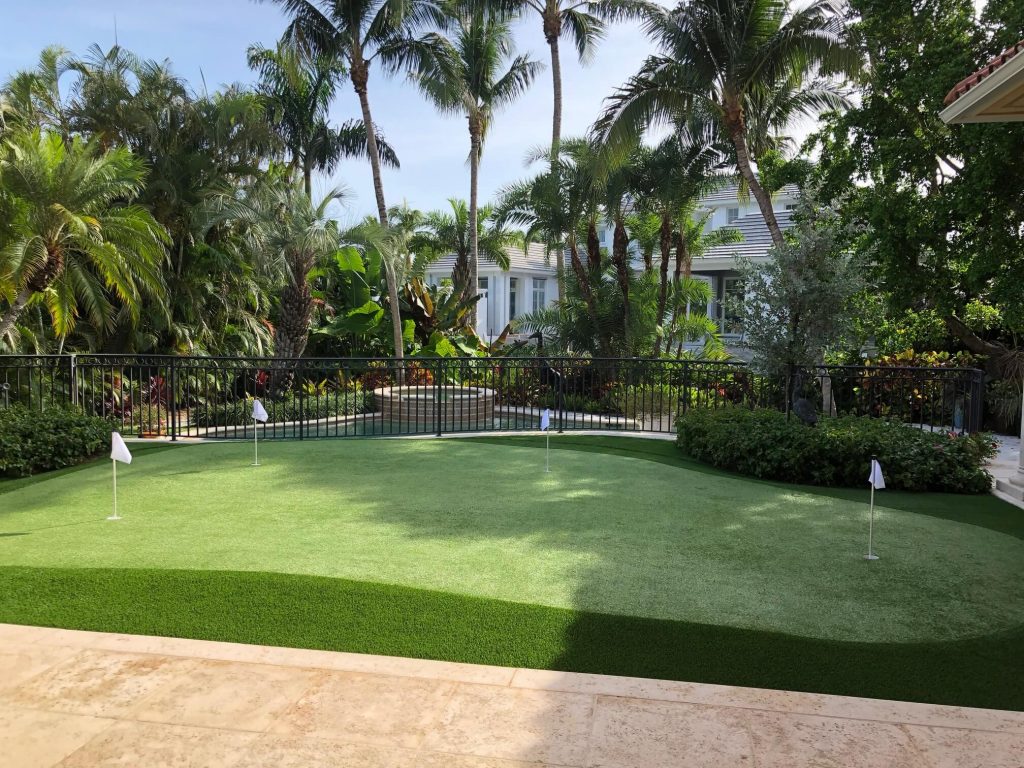 How Long Does
Artificial Grass in Fort Lauderdale Last?
The average lifespan of good quality fake grass is between 20 to 25 years. If you want your artificial turf to last this long, you should avoid the factors that contribute to its deterioration. 
At Southwest Greens, we integrate passion and dedication as part of our company culture. This allows us to provide our clients with a superior quality experience. We believe in investing in our people, providing them with extensive training to keep our staff on the leading edge of the industry trends. Contact us today to learn more.