Maintaining a pristine, top-tier golf green is, historically, a symbol of excellence in the sport. It is a testament to excellence and perfection. However, the debate between traditional grass and its man-made counterpart has been growing within the golfing industry. With growing concerns over water conservation and the environmental footprint of golf course management, golf course operators are seeking solutions that strike a balance between appearance and sustainability. In this article, we'll take an in-depth look into the world of golf turf by addressing myths and highlighting the advantages of artificial golf greens.
GREEN COMPARISON: MYTH VS. REALITY
MYTH: ARTIFICIAL GOLF GREENS LOOK FAKE AND UNAPPEALING.
Reality: One of the most significant breakthroughs in the artificial turf industry is its ability to recreate the appearance and playability of organic grass. High-quality artificial golf green products now feature a variety of blade shapes, color palettes, and layered thatch to give a realistic aesthetic that often leaves golfers wondering whether it's authentic turf or not.
MYTH: ARTIFICIAL GOLF GREENS FEEL UNCOMFORTABLE UNDERFOOT.
Reality: Innovations in technology have allowed manufacturers to create synthetic golf greens that are incredibly plush and comfortable to walk on and putt. Many synthetic turf solutions are designed with multiple layers mimicking the soil padding effect and the natural roll of organic grass greens.
MYTH: ARTIFICIAL TURF IS DETRIMENTAL TO THE ENVIRONMENT.
Reality: This myth can be easily refuted by exploring the environmental benefits of artificial golf greens. Organic grass greens demand significant amounts of water and chemical treatments to maintain their quality, especially in arid regions. Conversely, artificial golf greens need barely any water and drastically cut down on the need for dangerous chemicals, contributing to water conservation efforts and reducing the impact on the environment of golf courses.
MYTH: ARTIFICIAL GOLF GREENS ARE HIGH-MAINTENANCE.
Reality: Unlike conventional grass greens, which require frequent mowing, and pest control, artificial golf greens are a low-maintenance choice. Once installed, they require virtually no upkeep, freeing up golf course operators' time and resources for additional elements of course operations.
MYTH: ARTIFICIAL GOLF GREENS ARE NOT SUSTAINABLE.
Reality: Many artificial golf green solutions on the market today are manufactured using eco-friendly materials and methods. They are designed to be resilient, long-lasting, and resistant to extreme weather. By selecting synthetic golf greens, golf courses can decrease their carbon footprint and minimize the use of dangerous chemicals often used with conventional turf management.
MYTH: ARTIFICIAL GOLF GREENS CAN EITHER RECEIVE SHOTS OR PUTTS BUT NOT BOTH.
Reality: Many artificial golf green solutions available today are engineered to do either or; receive shots or be used as putting green. SW Greens has multiple projects that include golf holes designed in backyards, to not only receive pitch shots from distances ranging from 150 to 170 yards but also emulate the putting feel of a genuine bent grass green.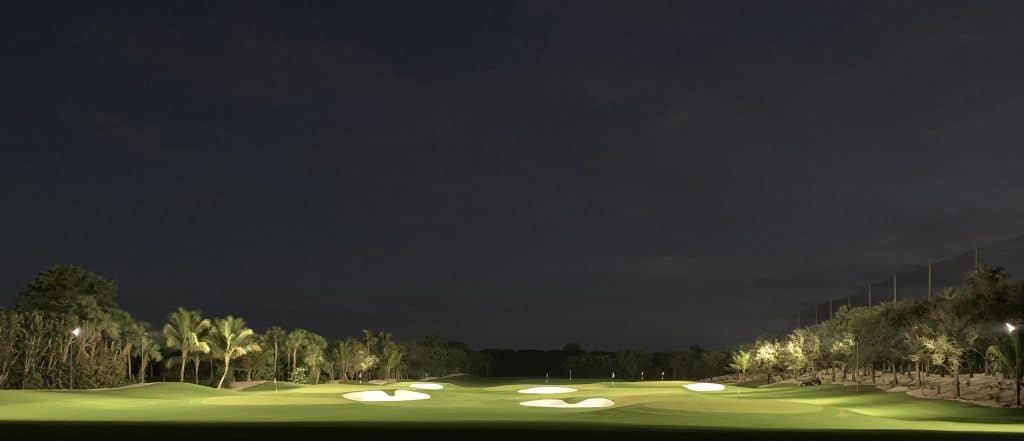 Gone are times when artificial golf greens were easily recognizable due to their artificial, bright green appearance. Thanks to advances in artificial turf technology, modern artificial golf greens now closely resemble the real thing in terms of texture, hues, and even how they react to light and ball roll. These advancements have played a major role in the rise in popularity of artificial golf greens on golf courses worldwide.
We'd love to help you find the right product for your project. Contact us today to schedule a complimentary consultation.