A Beautiful Golf Putting Green for Your Home or Business
Want to bring the game of golf to your business or backyard? Why not trust an industry leader that has worked with some of the best-known companies in the hospitality and entertainment industry like The W Hotel in South Beach or Carnival Cruise lines? If you want top quality golf putting green installation, it's time you call us at Southwest Greens.  
Putting Green Design Process
Southwest Greens installation begins with the Nicklaus Design process, implemented to ensure that every golf course is worthy of bearing the Golden Bear logo. The Southwest Greens-Nicklaus Design Process employs the most highly qualified designers trained and endorsed by Nicklaus Design.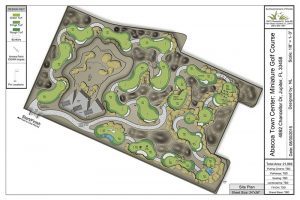 With exceptional attention to detail and consideration for slope, elevation, and layout, Southwest Greens designs your synthetic turf application with exact specifications through a specialized CAD program.
Once the putting green design has been finalized, our expert crews, execute the installation to the exact measurements and specifications of your design. We've installed hundreds of successful golf green installations including the homes of many PGA Tour Pros such as, Jack Nicklaus, Ricky Fowler, Dustin Johnson, Annika Sorenstam, Justin Rose, Gary Woodland, Jim Furyk, and many more.
Saves You Time and Money
Did you know that a synthetic golf putting green can actually save you money? Sounds counterintuitive, but the truth is that having artificial grass in your home or business benefits your bottom line by reducing water consumption and maintenance fees associated with natural grass.
A synthetic golf putting green also saves you the time that would take to maintain that grass or, if you want to hone those short game skills, drive to a golf course to practice your putting.
Maintain the Integrity of Your Golf Game
Some golfers feel that the ball won't travel the same way on an artificial putting green as it would on grass. There's no need to worry about that here. Our greens are designed and installed to specifications consistent with Nicklaus Design in building PGA Tour quality greens, meaning ball speed will be similar to that of top-quality golf courses in your area.
Our Golf Putting Greens are Right for You!
Once you feel the difference of our exquisite synthetic golf putting green, you'll know why our clients come to stay. Southwest Greens offers you're the best choice in the industry. Call us today to find out more about your options!